Flower delivery!
Welcome to the website FlowersToday.RU
We deliver flowers and bouquets to Moscow

Now select a bouquet and go to checkout

You can use our service to deliver cards . And if you want to pass some kind of a gift, along with a bouquet of flowers and we deliver it.

flowers can be performed at home, and in the office, hotel or at the place of work of the Recipient.

We can buy bouquets of flowers like those described on our website, and order unusual bouquet to your taste.

After placing the order for the sum from 2000 to 3000 rubles, you get right in the future to order bouquets of flowers at a discount of 5%. If you make a purchase worth more than 3000 rubles, you get the right to make our next purchase at a discount of 7% of the total order.

If you have any questions, you can contact us at the contacts .

If you choose to congratulate a loved one with our flower delivery service - you're right! Your attention to catalog bouquets presents various compositions that always delight your loved ones.

For the most selective customers in our service provides consultation with the florist who will listen to the wishes and will create original bouquet. Feel free to express their imagination, we will help you to realize them!

The quality of our work and affordable prices - the key to a long friendship with the customers of our company.
With us coming holiday!
Flowers Moscow allows many residents of the metropolis to provide tokens beloved, beautiful declaration of love and just to express warm feelings to their loved ones, even in our everyday life and constant time pressure. Congratulate a loved one, friend, colleague or partner by sending a bouquet of flowers - Delicate, beautiful and always a pertinent gesture. Flowers in Moscow in our service delivery - a rich selection of bouquets and arrangements for every occasion and for every taste.
To present the flowers to your loved one, which is on the other side of town, and to make a pleasant surprise among the working day will help Florist in Moscow. At any time you want, we will deliver the bouquet recipient, giving a lot of positive emotions and transferred via gift your feelings and desires.
The high qualification of our staff and extensive experience allows us to fulfill your order as soon as possible and to give customers an unforgettable experience of the holiday, even on weekdays.
Our work - delivery of good impressions!
We know that the order of the colors for our customers - an exciting and responsible activity, it is very important to choose the right song really. Therefore, to the extent possible, we try to help in the choice of the bouquet, time and method of delivery of a gift. Often accompanied by a Florist in the client's request to present the gift card and send warm words that are important to the customer and the recipient. We fulfill the request of the customer in strict accordance with the agreement on the time and conditions of delivery of a bouquet.
Sometimes, the order of colors - only a part of the ceremony, devised by our client in order to impress a loved one. This can be a declaration of love, marriage proposal, a personal holiday greeting and other important points. We fulfill the wishes of customers properly and discreetly, with a bouquet of flowers brings joy and only good impressions. Lotus flower - an important component of your overall holiday, so we are doing everything to make it a memorable one for you.
Ask the expert!
It is possible that the choice of the bouquet puts our customers in a dead end, because difficult to determine at a glance, what the composition like the recipient more. Ask for advice from our florist, who has a vast experience in creating bouquets for people with different tastes.
The difficulty with the choice of composition occur when you want to not only bouquet of roses , but with the addition of other colors, including exotic. Immediately there is a lot of doubt: how will it look? What size is the composition? Feel free to ask about everything from our manager, he was happy to answer all your questions.
First, consider the catalog of bouquets, presented on the site. Determine what you liked and what - no. Tell the manager about it. Lots of your stated wishes - a guarantee that the bouquet will look exactly the way you want. Tell us in general terms, who designed gift for any occasion, etc. The choice of colors in the gift should be personal, even if it is a bouquet on March 8.
We'll help you choose and surprise!
Bouquet of the day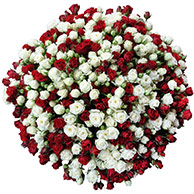 Bouquet №2
To order